Delighted to announce we will be playing at the Big Beach Ball in our hometown of Aberdeen on the 5th of May. Going to be a fine fine day.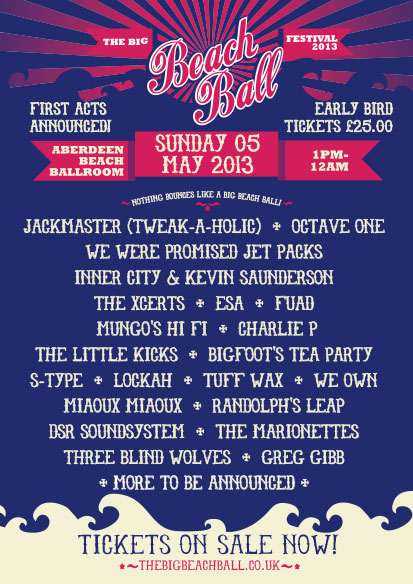 Hello everybody,
Hope you're all well, I'm currently writing this in a dazed like state due to getting home from tour last night. Coming off tour is a really strange thing to describe to someone that hasn't experienced it. Imagine constantly being in motion, late nights, lots of noise, lots of fun, surrounded by people 24/7, eating meals at innapropriate times, not sleeping well and then someone pulls the plug on the party, everyone scatters and then it's back to the real world. It's a lot like the last scene in The Sopranos….
However i'm not hear to wallow in my post tour blues, i am hear to inform you all of some exciting news!
Firstly, we are beyond delighted to announce we will be supporting Biffy Clyro on 4 of their European dates in March. The dates are below and we cannot wait to see some familiar faces / see plenty of new faces.
March
Sun 3 – Stockholm Berns, Sweden
Mon 4 – Bremen Aladin, Germany
Tues 5 – Wiesbaden Schlachthof, Germany
Wed 6 – Paris Bataclan, France
Secondly, we are once again delighted to announce we will be playing the opening day of 2000 Trees Festival on Thursday the 11th of July. As many of you know we adore this festival and we cannot wait to play again this year.
And lastly, we'll be joining our buds in Lower Than Atlantis for the last 3 shows of their April headline tour.
April
Tues 23 – Norwich Waterfront
Wed 25 – Portsmouth Pyramid Centre
Thur 25 – London Shepherds Bush Empire
That's it from us just now, many many things are happening in camp XCERTS right now and we are so grateful you have been so patient with us. We appreciate you.
We are heading out on tour with Anberlin towards the end of the month. Follow the links for details and tickets.
26th Jan – The Fleece, Bristol TICKETS
27th Jan – The Haunt, Brighton TICKETS
28th Jan – Wedgewood Rooms, Portsmouth TICKETS
29th Jan – Rescue Rooms, Nottingham TICKETS
30th Jan – o2 Academy 2, Birmingham TICKETS
01 Feb – Great Hall, Cardiff University TICKETS
02 Feb – o2 Academy 3, Manchester TICKETS
03 Feb – o2 Academy 2, Newcastle TICKETS
04 Feb – Cathouse, Glasgow TICKETS
06 Feb – o2 Academy, Sheffield TICKETS
07 Feb – The Garage, London TICKETS
Delighted to announce we will be doing a short run of dates this December. Tickets for all shows are available NOW. Who wants a bangover?
December 2012
Sat 1st – Aldershot West End Centre (14+)
www.westendcentre.co.uk
Sun 2nd – Kingston Fighting Cocks (14+ matinee show)
www.banquetrecords.com
Mon 3rd – Exeter Cavern (16+)
www.wegottickets.com
Wed 5th – St Albans The Horn (18+)
www.ticketweb.co.uk
Thu 6th – Bath Moles (18+)
http://www.moles.co.uk/events/eventdetails/6-dec-12-the-xcerts–moles/
Fri 7th – Wakefield The Hop (18+)
www.ticketweb.co.uk
Sat 8th – Aberdeen Tunnels (14+)
www.beyondhighlands.com
Mon 10th – Dunfermline Jam Jar (16+)
http://www.brownpapertickets.com/event/287387
Tue 11th – Dundee Beat Generator (14+)
www.ticketweb.co.uk
Next Page »